Landcare, Maintenance + Inspections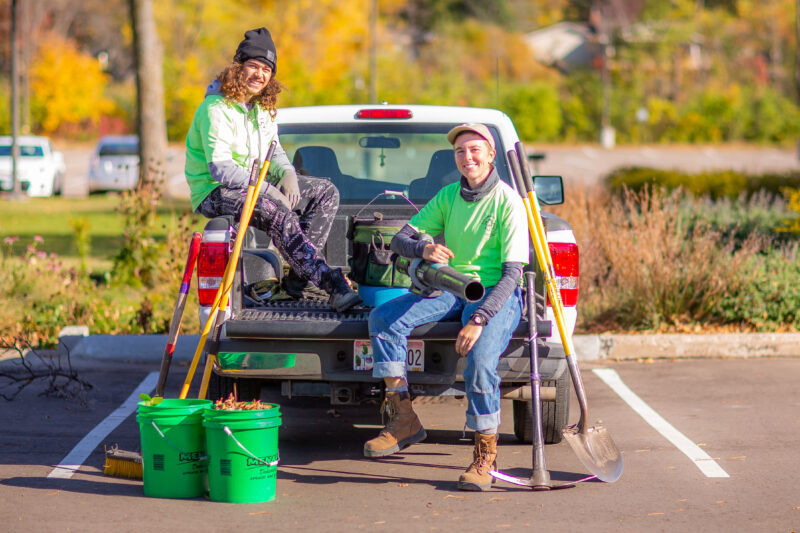 Metro Blooms Design+Build has expertise in sustainable landscapes with an emphasis on stormwater management, native vegetation and invasive vegetation management. Our maintenance services are ideal for properties with larger raingardens and stormwater best management practices. These include governmental, commercial, institutional and multi-family properties — for example, cities, schools, rental complexes, businesses and churches.
What We Do
Vegetation Management
We provide comprehensive vegetation management of native plantings. Our staff is highly trained in native and invasive species identification. We emphasize sustainable landscape management practices and prioritize seasonal non-chemical methods.
Our management strategies include hand-pulling, digging, torching, smothering, mowing, and spraying weeds with organic herbicides. Our crews use only battery-operated landscape equipment.
Our services includes spring clean-up, pruning, deadheading and weed removal and management, among other things.
Inspections and Reporting
We maintain, inspect and report on raingardens, bioswales, permeable pavers, underground infiltration chambers, pre-treatment structures and other best management practices. We work closely with municipalities, watershed districts, commercial properties and others.
We ensure optimal function of stormwater practices.
We create and implement operations and maintenance plans.
We report on stormwater practices (including Chapter 54 compliance reporting).
We assist in stormwater credit applications.
Single residential property: We don't maintain single-family, residential properties — but if you are interested in learning how to maintain your own residential raingarden or yard, you can sign up for a maintenance consultation. You can find more information on our Consultations page.
Want more information? Send us an

email

.
Photos from our work
Cleaning an inlet to a raingarden

Cleaning a channel drain that captures runoff

Maintaining native plants on school property

Small business property after maintenance